There are two advanced filters: one for time, and one for publications and other sources. These let you very specifically refine your results to get the most relevant content for your needs.
Advanced time filter
You can choose a preset time period anywhere from 5 minutes to 1 year (or the full archive - see below).
You can also set any time frame you want by either limiting the number of minutes, hours, days, weeks, or months from the current date or choosing a specific date and time range.
Older stories and larger volumes of stories will take longer to load. If you need Big Data levels of historical information, see our Historical Data Sets product, which is designed to efficiently deliver millions of stories over longer time frames.
Full Archive
Our archive is only open to 01 January 2018. This means the amount of returned data will grow every day. In order to limit loading times, we recommend targeting a specific period rather than loading the entire data set (or use Historical Data Sets).
The rest of our archive, which stretches further back than 2018, will be available in the future.
Advanced source filter
The Advanced Source Filter allows you to block any source from your feed or show content from only your selected sources.
To find the advanced source filter, open the Sources menu under the Filters section and Choose "Settings" on desktop: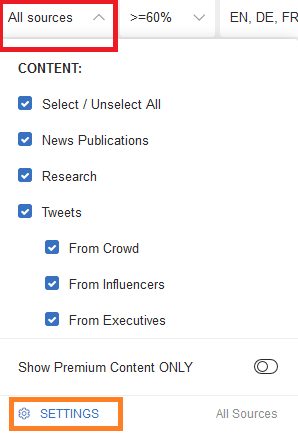 which will show you our Content Settings menu:

By choosing Selected Sources, you will see content only from the selected sources. So if you choose Xinhua News, Reuters, and BBC, you will only see content from those three. You may select (or block) up to 100 sources. This limit enables a good trade-off between customer needs and performance. However, if there is no matching content, the Recommended Stories section will still show blocked sources.
You can toggle between All Sources and Selected/Blocked Sources, and your preferences will be saved.
When searching, we categorise the results by source type. Or you can limit your selection to Major, Other, or Premium sources by choosing that tab: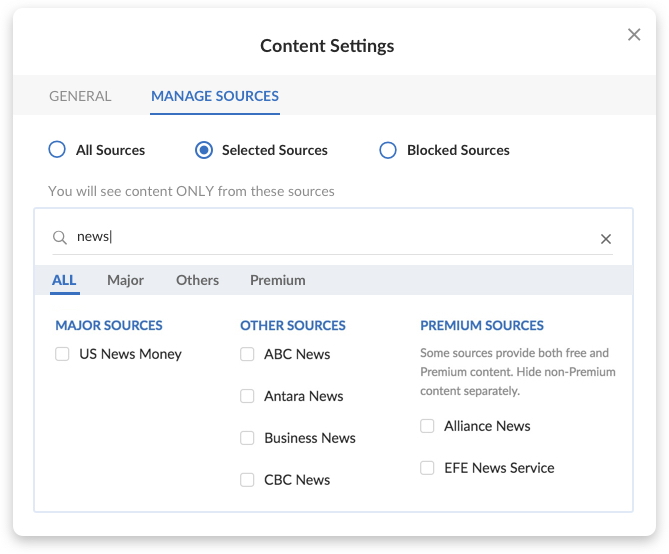 Note: If you want to see only Premium content, you will need to set the Premium Content ONLY toggle switch to "on", located in the regular Sources menu just above Settings (orange box above). See this FAQ on the differences between Premium Content and Premium Sources.
Twitter Content
You can create a Twitter-only feed under the regular source filters and choose which types of tweets to see in the feed. We have designated some accounts as "influencer accounts", so you can see content only from those that may influence the market.
Under The Advanced settings, you can also choose to restrict tweets to those with no links.