Browse all publications on our Premium page. See below for details and a selection of major sources.
Some publishers finance their operations and content production with advertisements. Others turn to subscription models and erect paywalls for those who have not subscribed. While both have legitimate business reasons for each style, it can be frustrating for users to see constant advertisements or to subscribe to multiple services.
We help you avoid the frustration by providing a single platform to read all your financial, political, and business news in one place - free of adverts and even allowing you to bypass paywalls. We do pay licenses for the payable material, so you can rest assured that you are still supporting your favourite publications.
List of Publications
This is a partial list for convenience. Browse all publications on our dedicated Premium tab.
As of June 2020, we count about 1000 publications whose select content we deliver without advertisements or paywalls. While we provide plenty of content, the publishers do keep some of their stories exclusively for their own website. Below is a list of about 50 of the most prominent publications that appear in CityFALCON Premium:
Global

The Associated Press
Newswire
Accesswire
Benzinga
Business Wire
DailyForex
Global Property Guide
GlobeNewsWire
M-Brain
United Press International

North America

HuffPost
The Boston Globe
Washington Post
Canadian Press
Edgar Online
Forbes
Investors Business Daily
Kiplinger
National Journal
San Francisco Chronicle
Stockwatch
USA Today

Western Europe

The Economist
Agence France Presse
Deutsche Presse-Agentur
France 24
The Guardian
BBC
Belfast Telegraph
City AM
Elsevier
Evening Standard
MaltaToday
Property Week
Radio France Internationale
The Independent
The Malta Independent
The Telegraph

South and Southeast Asia

ARKA News Agency
Daily Mirror Sri Lanka
Daily News Sri Lanka
Hindustan Times
HT Media
New Straits Times
Pakistan Press International
SME Times
Star of Mysore
The Financial Express
The New Indian Express
The Statesman
United News of Bangladesh
United News of India
Vietnam News Agency

East Asia

Yomiuri

Nikkei Asia

China Knowledge
ET Net News
Kyodo News
Trend News Agency
YONHAP NEWS Agency
Xinhua News

East Europe

BNE Intellinews

Moscow Times

OMX

Polish Press Agency

Tass

The Local Europe

Ukrinform

Africa

African Manager
All Africa Global Media
Business Daily
FrontPage Africa
Ghana News Agency
The Herald Zimbabwe
Independent Newspapers Nigeria
IOL News
ITWeb
Mmegi Online
Daily Monitor
Daily Nation
NewsDay Zimbabwe
The New Times Rwanda
New Vision
The Citizen Tanzania
The East African
The Zimbabwe Independent
The Standard Zimbabwe

West Asia

Arabian Business
Arab News
Al Arabiya
Gulf News
The Jerusalem Post
Khaleej Times
Muscat Daily
Kuwait Times
Oman News Agency
Times of Oman
Trade Arabia

Oceania

Australian Associated Press
Financial Review
Roy Morgan
The Australian

South America
To view eligible content without a paywall or advertisements, you have to be logged in and you have to view the news through the CityFALCON platform with a Gold subscription. You can use the apps or the website.
Viewing Premium Content
There are no special steps to view Premium content. In fact, it is even easier to view the Premium content on our platform than non-Premium content. For regular stories, you have to click See Full Story and wait for the page to load. With Premium content, the full text of the article is loaded right away: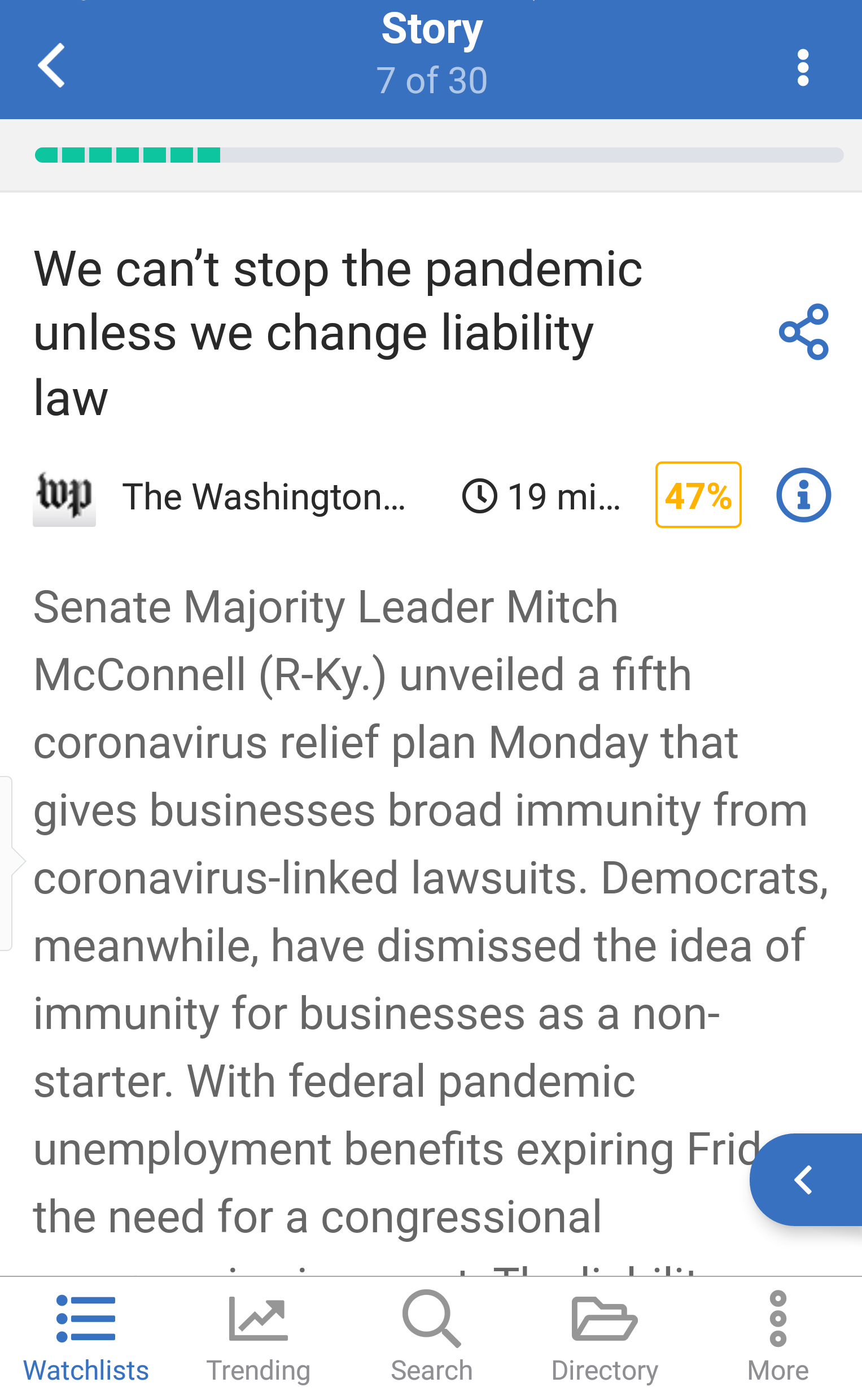 You don't even need to tap a More button, and you certainly don't have to go to another website. You can just read the news.
If you want to filter out all non-Premium content, simply toggle this switch under the Story Filters menu to the on position: